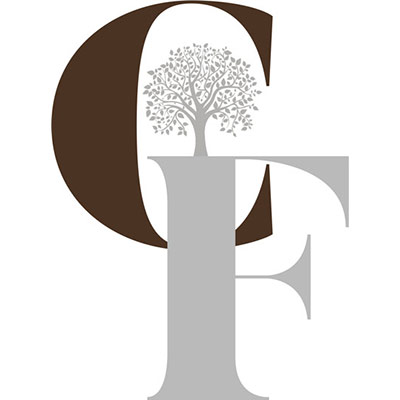 The Site
Carter Farm Agrihood is a proposed development project in the Eastern Short community of Centreville, Maryland. The project site consists of a 46-acre former Chesterfield farm that is located within a Critical Area of the Chesapeake Bay due to its adjacency to the Corisca River. The site's walkable, in-town location presents an ideal opportunity to create a new model for sustainable development on the Eastern Shore.
LEARN MORE
Smart Growth is a foundational approach to the sustainable design, construction and future operation of the Carter Farm Agrihood.
Sustainable Sites
Carter Farm is walkable community located on an in town site with pedestrian friendly approach to the plan and easy connections to services within town.
Stormwater Best Management Practices are being applied to all aspects of how rainwater is contained, filtered, and reused to avoid runoff that would impact surrounding ecological systems.
A clustered development plan limits the paved and covered areas of the site to increase areas for absorption of rainwater and green spaces for ecological and human health.
Green Homes
Carter Farm homes will be built to green building standards that reduce energy and water use, and provide healthy indoor environments.
FUTURE ref: Good Example of project green features
The homes of Craggy Park have been thoughtfully designed and responsibly built for sustainable living.
Each home has been certified by Green Built North Carolina, a voluntary, sta
AFFLILIATIONS
Local:
Future Harvest
ESLC
Main Street
National:
Urban Land Institute
US Green Building Council
WBENC
NEWS
Links to articles from previous site
Link to the QAC TV interview of Rebecca
Public Meeting: use the current brown box approach and listings
The site is proposed to be developed as an Agrihood that will be centered around a working farm and the associated benefits of direct access to fresh food and open spaces. The farm will also serve as an amenity to the homebuyers and the broader community.
The project includes 128 residential for-sale units and a neighborhood serving commercial retail area. Key program elements for the entire site include:
Farm: A 5-acre working agriculture area including accessory buildings and farm market.
Parcel 1A: 8 lots for SF units with private woonerfs. All site woonerfs are built to loading and width standards that accommodate resident, emergency and delivery vehicle access to homes.
Parcel 1B: 25 single-family (SF) units, 2 – 3 bedrooms, 1300 – 2150 sf with private woonerf access to homes. Parcel IB is being designed as a Pocket Neighborhood in response to an active group ofexisting home buyers who are interested in a walkable community with common spaces and sharedcommunity building.
Parcel 2: 42 single-family and townhome units with private woonerf access to homes.
Parcels 3A,3B,3C: 48 single-family, townhome and multifamily units with a traditional streetnetwork that may be private or public depending on the Town's determination of providing publicservices to homes located on public streets.
Phase 4-1: a live/work parcel to accommodate lower floor studio / upper floor residence.
Phase 4-2: a commercial area with 4 residential units and up to 15,300 sf of space available forsmall scale neighborhood-serving retail including value-add farm products, and a farm-to-table restaurant that may include adaptive reuse of the Carter Farmhouse. All buildings will be designed using historic Maryland barn forms and massing to create a grouping that is rural in character and in context with the farm and its environs.
Historic Carter Farmhouse: reuse of the existing farmhouse is being explored and the intent will be to retain the exterior integrity and surrounding heritage trees.
Public Open Spaces: required for the site is 8.951-acres (20% of net area) and the Carter Farm development provides 19.941-acres, more than double what is required by zoning. These spaces include the following:

Habitat Restorationand Expansion: the entire 12.55 Buffer area within the Critical Area of the Project site will be restored through removal of invasive species and reforestation with additional afforestation of the 1.56-acres located within the expanded Buffer zone (beyond the existing tree line) utilizing native / wildlife supportive species. The Buffer restoration and provision of new tree canopy along with habitat-focused vegetation planted in non-buffer areas of the development will greatly improve biodiversity in an area which was formerly monocultural agriculture and invasive ridden buffer zone.
Corsica Trail: a 0.72-mile, 5-foot-wide limestone, low-impact trail for public pedestrian access to nature within the Buffer Area.
Overlooks: two public platforms for views of the Corsica River and the Yellow Bank marsh.
Chesterfield Trail: a .32-mile-long, 8-foot-wide paved public trail for use by cycles and pedestrians with connections to Chesterfield Avenue and the Town's future trail network through the Board of Education (BOE) property.
Open-Space Amenity Maintenance: Carter Farm Homeowners Association will provide ongoing maintenance of all public open space amenities except for the Chesterfield Trail that will be dedicated to the Town as part of the public street right-of-way.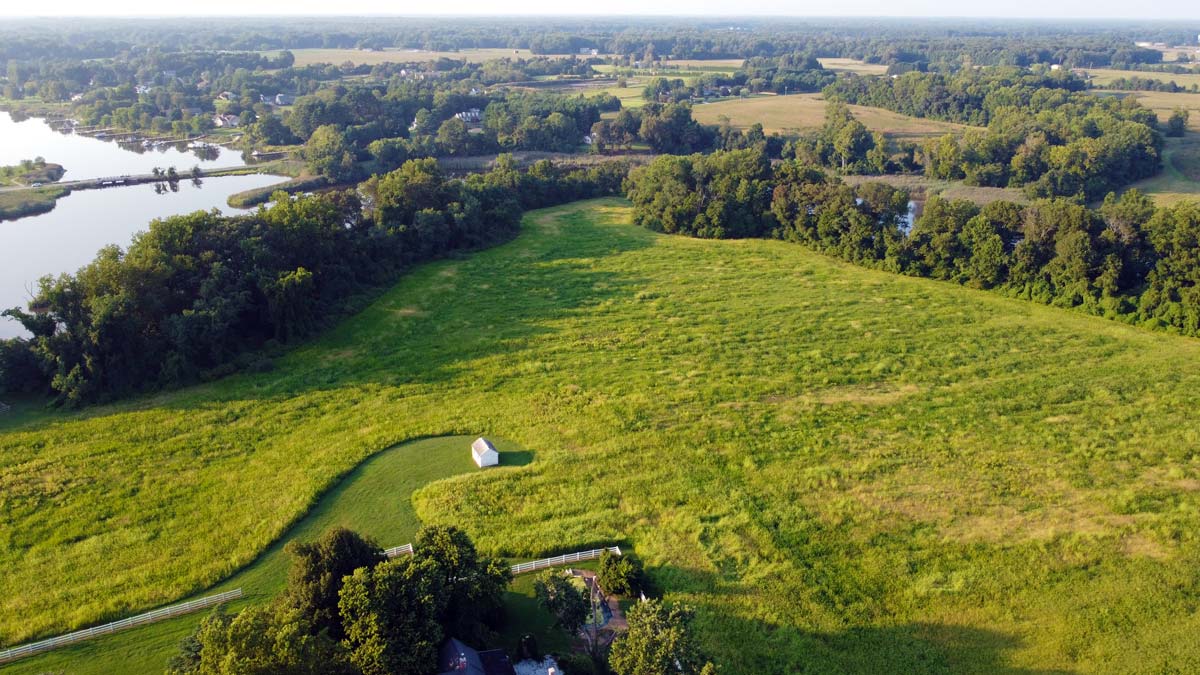 Restoring Habitats
A key part of the Carter Farm Agrihood project is conservation with an eye toward triple bottom line goals. This will be achieved, in part, through the following:
Removal of invasive species and reforestation of the 12.5-acre Corsica River buffer zone.
Afforestation of the 1.56-acre expanded buffer zone.
Planting of native vegetation in landscape & pollinator gardens.
Regeneration of farm soil.
Installation of best practices in storm water management.
To the last point of storm water management, such best practices will include rain gardens in open spaces, microinfiltration beds in rear yards, permeable pavers, green roof on the multifamily building, and bioswales along roads and parking areas.
Detailed information about conservation planning in Carter Farm Agrihood can be found in the resources below.
Resources
Below are downloadable resources that further detail the Carter Farm Agrihood project. These include PDFs of the following:
Growth Allocation Request for the Carter Farm Traditional Neighborhood Development
Carter Farm Agrihood Preliminary Site Plan
Carter Farm Agrihood Summary
Growth Allocation Request for the Carter Farm Traditional Neighborhood Development.
Presented to Centreville Town Council on April 20, 2022.
(5.2 MB .pdf)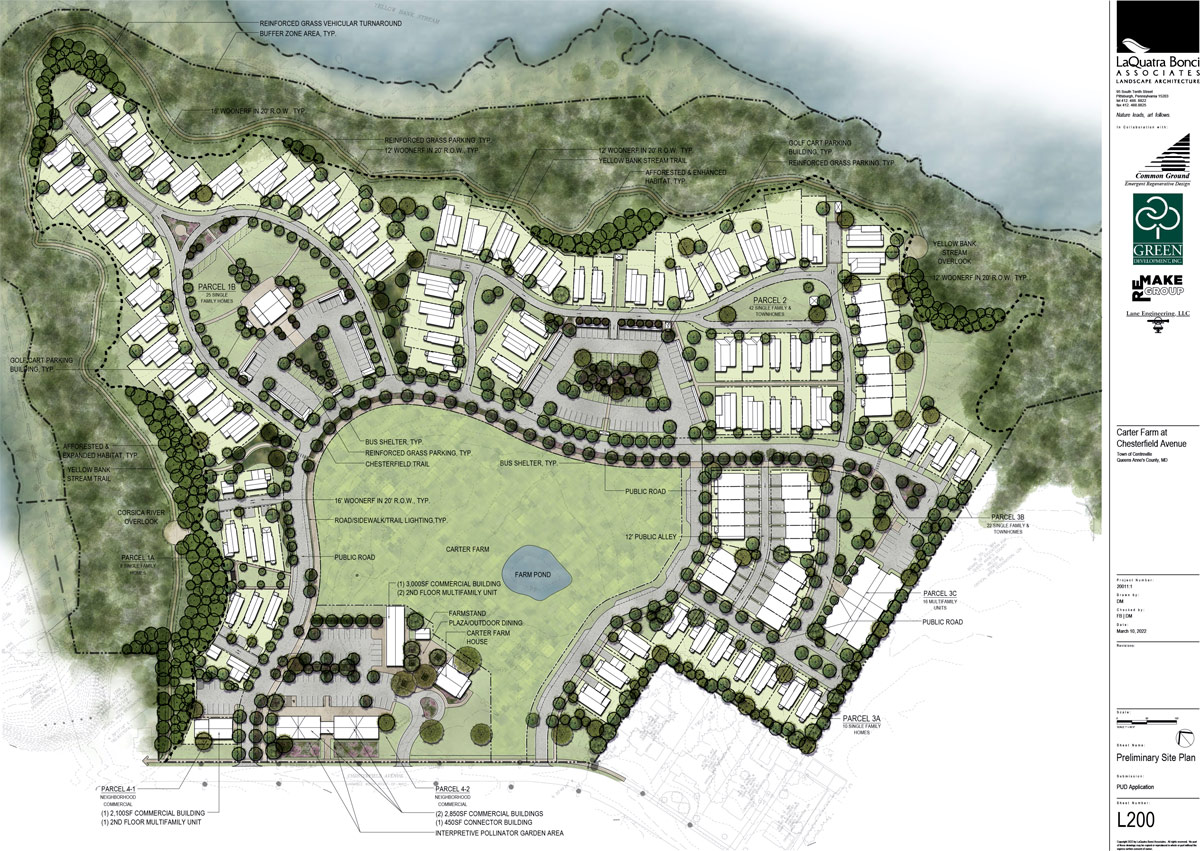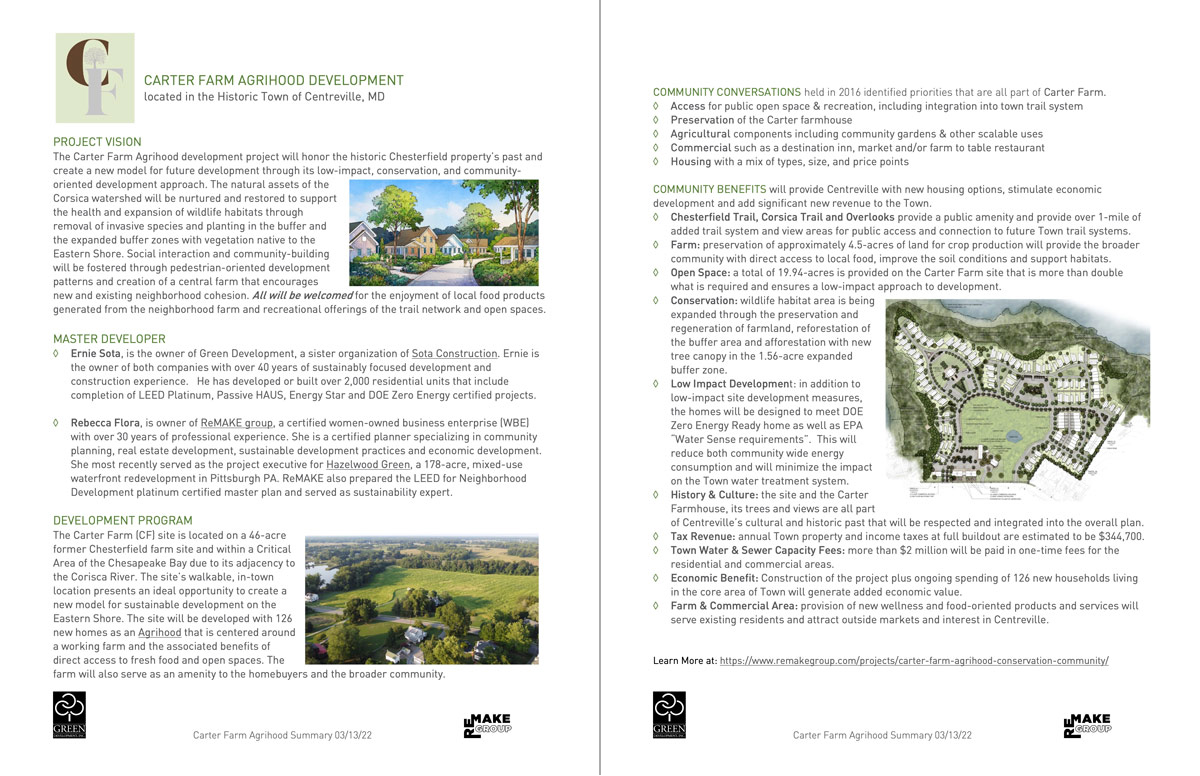 March 2022 | 360 KB .pdf
Learn More About Agrihoods
An "agrihood" is an organized community that integrates agriculture into a residential neighborhood. The purpose of these communities is to facilitate food production while at the same time providing connectedness, recreation and a higher quality of life for members of the community. (Wikipedia)
View the following video from the Urban Land Institute to learn more about agrihoods and how the presence of these developments in town plans can make communities more diverse, vibrant, and enjoyable to live in.
Agrihoods: Cultivating Best Practices, published in 2018 by Urban Land Institute.
Get More Information
Want to learn more about living, purchasing property and becoming a resident at the new Carter Farm? Jump over to our contact page and fill out the form. We'll be right back in touch with you with the information that you're looking for!